The 2nd IPB International Conference on Nutrition and Food (ICNF 2022)
June 2 @ 8:00 am

-

5:00 pm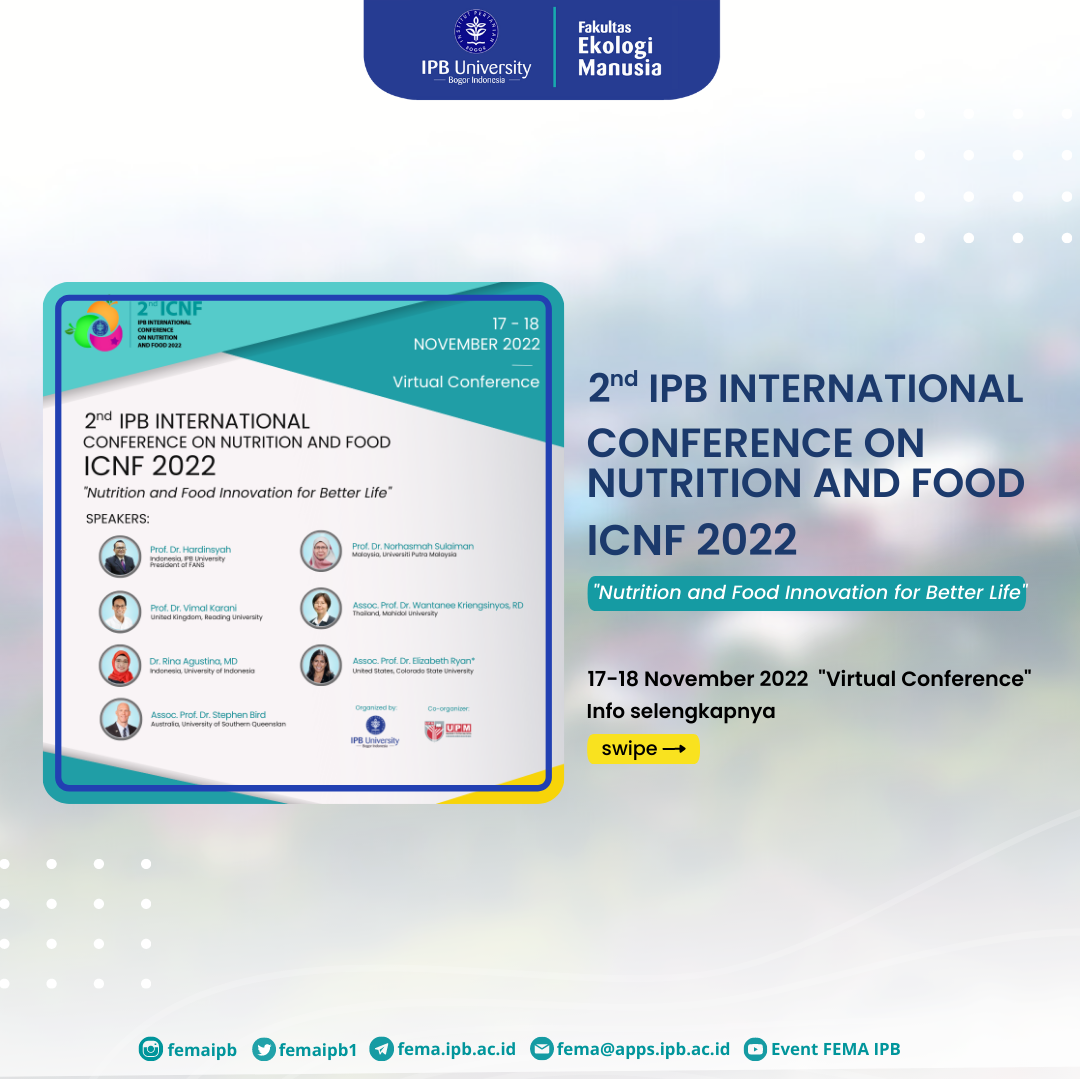 [PERPANJANGAN DEADLINE ABSTRAK: 30 JUNI 2022]
Departemen Gizi Masyarakat, Fakultas Ekologi Manusia, IPB University akan mengadakan The 2nd IPB International Conference on Nutrition and Food (ICNF 2022) pada tanggal 17-18 November 2022, yang dilaksanakan secara daring (online).
Tahun ini, ICNF akan diadakan dengan tema Nutrition and Food Innovation for Better Life. Oleh karena itu, kami mengundang dosen, peneliti, dan mahasiswa dari institusi Bapak/Ibu untuk menjadi peserta di ICNF 2022.
Sebagai informasi, panitia konferensi bekerjasama dengan jurnal internasional terindeks Scopus untuk memfasilitasi penerbitan prosiding yang dipresentasikan pada konferensi ini.
Berikut link pendaftaran untuk mengikuti ICNF 2022: ipb.link/icnf2022registration
Adapun info lebih lengkap mengenai ICNF 2022 dapat dilihat dari poster terlampir dan website dengan tautan berikut http://gizi.fema.ipb.ac.id/icnf-2022/ , atau dapat juga menghubungi sekretariat kami di icnf@apps.ipb.ac.id.
Demikian informasi dari kami. Atas perhatian dan partisipasi dari Bapak/Ibu, kami ucapkan terima kasih.