[TALKSHOW & BUKA BERSAMA ALUMNI FEMA]
April 16 @ 3:30 pm

-

7:30 pm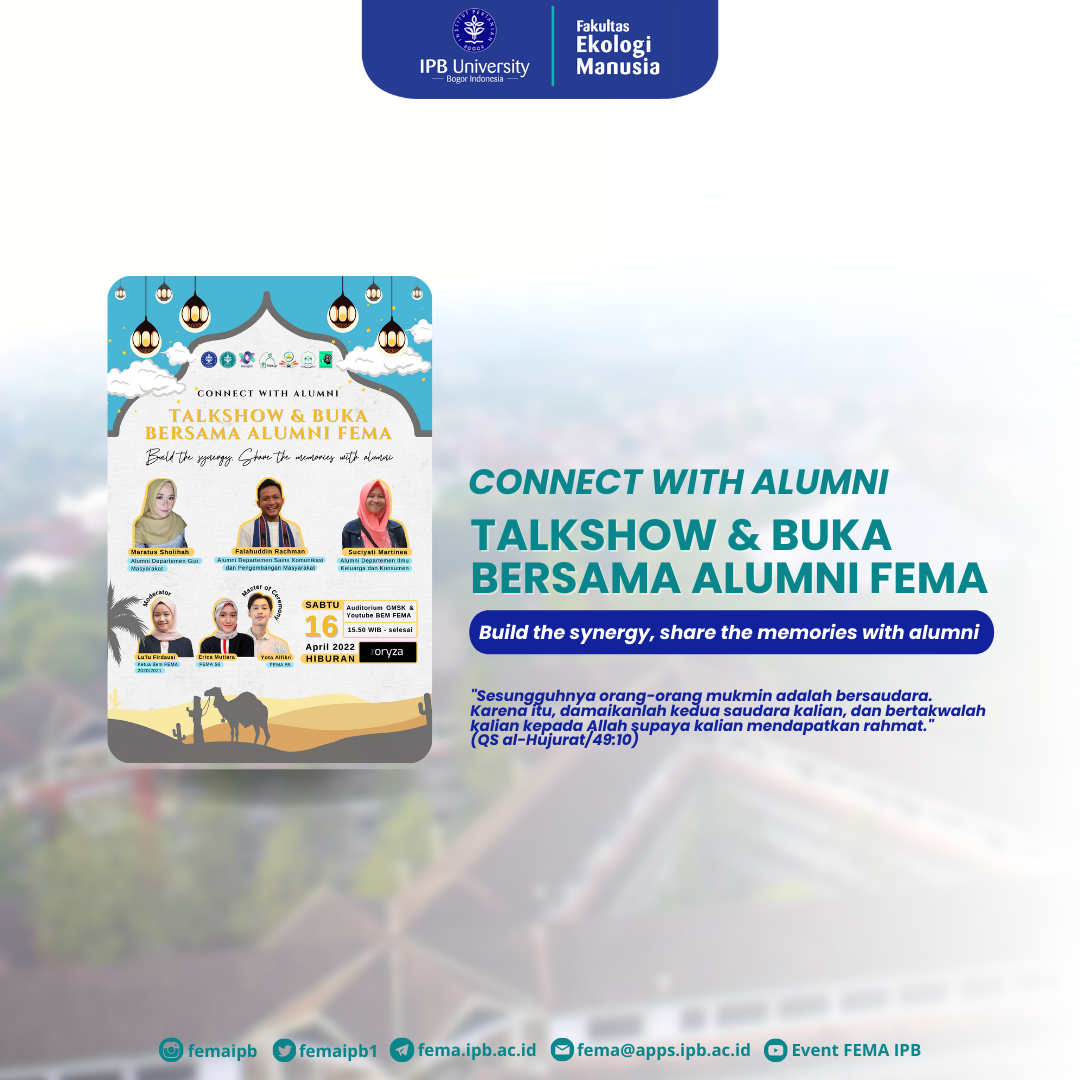 [TALKSHOW & BUKA BERSAMA ALUMNI FEMA]
Assalamualaikum Wr. Wb.
🕌 Marhaban Ya Ramadhan 🕌
Tak terasa kita telah memasuki hari ke-10 bulan Ramadhan. Rasanya kurang afdol kalau kita belum melaksanakan Buka Bersama. Oleh karena itu, BEM FEMA bekerja sama dengan FEMA IPB mengundang Bapak/Ibu Dosen, Tendik, Kakak-kakak Alumni dan Mahasiswa FEMA semuanya untuk hadir dalam acara Bukber FEMA~Connect with Alumni dan sekaligus memperkuat tali silaturahmi antara Alumni dengan Civitas Akademik FEMA.
In Syaa Allah acara ini akan dilaksanakan secara Hybrid pada:
📅 Hari, tanggal : Sabtu, 16 April 2022
⏰ Waktu : 15.50 WIB – selesai
👔 Dresscode : Bebas sopan dan rapi
📍 Tempat : Auditorium GMSK IPB dan YouTube Streaming BEM FEMA.
"Sesungguhnya orang-orang mukmin adalah bersaudara. Karena itu, damaikanlah kedua saudara kalian, dan bertakwalah kalian kepada Allah supaya kalian mendapatkan rahmat." (QS al-Hujurat/49:10)
So, jangan lewatkan moment sekali setahun ini! Catat tanggalnya dan sampai jumpa di Bukber FEMA~Connect with Alumni 2022!
Narahubung :
Daffa (087838370793)
Nabila (081515657187)