Setiap tahun, Himpunan Mahasiswa Peminat Ilmu-ilmu Komunikasi dan Pengembangan Masyarakat (Himasiera), Institut Pertanian Bogor (IPB) menggelar acara besar tahunan bertajuk Connection. Pada gelarannya yang keenam, Connection mengangkat konsep baru yang dikemas menarik di tengah situasi pandemi.
The 6th Connection 2020 kali ini mengangkat tema Global Synergy of Local Wisdom for New Normal Era, membawa visi untuk mengajak anak muda agar ikut membangun desa dan menjaga kearifan lokal Indonesia. Salah satu caranya, yakni dengan mengadakan kegiatan eksplorasi desa berbasis pengembangan dan pemberdayaan masyarakat. Kasepuhan Ciptagelar, Sukabumi, Jawa Barat, dipilih menjadi Kampung Adat yang diangkat kearifan lokalnya pada The 6th Connection 2020. Dalam acara puncak yang diadakan secara virtual, tim The 6th Connection akan meliput langsung obrolan para narasumber dari IPB dan Kampung Adat Kasepuhan Ciptagelar.
Terbagi menjadi 3 rangkaian acara
Tak berbeda jauh dari tahun-tahun sebelumnya, acara The 6th Connection 2020 terbagi menjadi 3 rangkaian acara besar, yakni perlombaan fotografi dan vlog, virtual exhibition, dan ditutup dengan live streaming bertajuk 'Exclusive Talk & Live Report from Kasepuhan Ciptagelar'. Acara pertama, The 6th Connection dibuka dengan perlombaan Vlog and Photography yang bertajuk 'Reswara Competition'. Perlombaan ini terbuka untuk umum. Sehingga siapapun dapat mengasah kreativitas dan saling berkompetisi.
Pameran virtual pertama dengan tema kearifan lokal
Karya-karya yang telah terkumpul, kemudian dipamerkan dalam virtual exhibition yang tersedia pada official website The 6th Connection. Yang menarik, virtual exhibition ini merupakan pameran virtual pertama yang mengangkat tema kearifan lokal. Layaknya berkunjung ke pameran seni pada umumnya, pengunjung virtual exhibition dapat melihat-lihat karya foto dari peserta lomba Reswara dan ikut menyumbangkat vote untuk mendukung calon pemenang. Virtual exhibition ini berlangsung dari 4 Oktober hingga 9 Oktober 2020.
Ditutup dengan Live Streaming dari Kasepuhan Ciptagelar dan sederet narasumber ternama. Rangkaian acara terakhir adalah live streaming 'Exclusive Talk & Live Report from Kasepuhan Ciptagelar' yang akan diadakan Sabtu, 10 Oktober 2020. Acara ini akan menyajikan obrolan antara narasumber dari IPB University dengan perwakilan dari Kampung Adat Kasepuhan Ciptagelar sebagai salah satu desa wisata di Jawa Barat yang terkenal dengan kearifan budaya lokal.
Tak hanya itu saja, The 6th Connection juga akan mengundang 3 narasumber kenamaan, yakni Karin Novilda, Yoyo Yogasmana, dan Gede Robi Supriyanto.Karin Novilda atau biasa dikenal dengan Awkarin, dikenal sebagai persona yang dapat meng-influence kalangan milenial. Di akun YouTube-nya, ia pernah mengeksplor daerah-daerah pedalaman di Indonesia. Adalah #KelanaKarin, konten yang dikenal berisi rekam jejak perjalanannya mengenal lebih jauh adat dan budaya lokal. Ada pula Yoyo Yogasmana, pemangku adat sekaligus juru bicara di Kasepuhan Desa Ciptagelar. Sosok yang kerap disapa Kang Yoyo ini merupakan juru bicara dan tokoh penting pembangunan di desanya, sehingga dianggap bisa menceritakan dan merepresentasikan kehidupan masyarakat adat Kasepuhan Ciptagelar itu sendiri.
Selain itu, turut hadir Annas Rajid Syarif. Direktur Layanan Komunitas PB Aman atau Aliansi Masyarakat Adat Nusantara ini akan membahas cerita Kasepuhan yang berhasil mengembangkan teknologi, tetapi tetap mempertahankan keaslian adat istiadat dan budayanya.Terakhir, Gede Robi Supriyanto. Ia adalah seorang musisi dan aktivis lingkungan yang sering menyuarakan isu-isu lingkungan di Indonesia. Lewat bermusik, ia menyerukan perjuangan pelestarian lingkungan kepada para pendengar, berharap alam Indonesia tetap terjaga. Bagaimana, teman kumparan, menarik bukan? Bagi kamu yang penasaran dengan acaranya, bisa mengunjungi sosial media The 6th Connection di bawah ini, ya. Youtube: Himasiera Instagram: connection_ipbTwitter: connection_ipbTiktok: connection_ipbLINE: @726yihslWebsite: The 6th Connection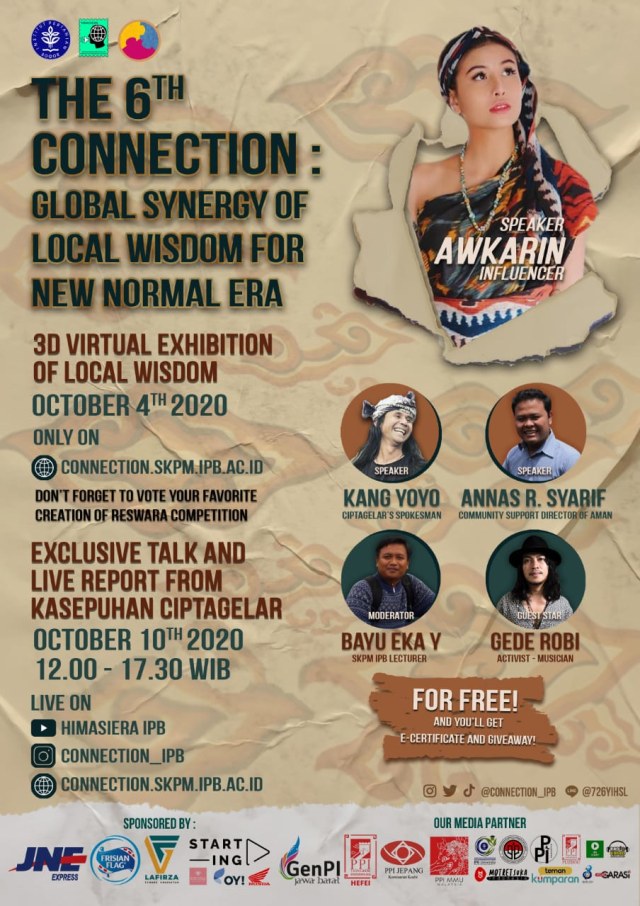 sumber : https://kumparan.com/