Dr Siti Amanah _ shared as a resource person at the APDM IAAS Asia Pacific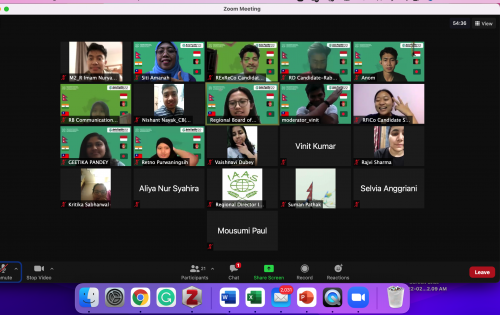 Dr. Siti Amanah, Dosen pada Departemen SKPM FEMA IPB yang juga Wakil Dekan Bidang Akademik dan Kemahasiswaan FEMA IPB, mendapat kesempatan memenuhi undangan sebagai pembicara pada  Webinar The International Association of Students in Agricultural and Related Sciences (IAAS) Asia Pacific DIrector Meeting. Dalam hal ini Dr Siti Amanah juga sebagai Ketua Rural Advisory Services in Southeast Asia dan Ketua Organisasi Jaringan Asia Pacific Islands Rural Advisory Services.  Webinar tersebut dilaksanakan dalam rangka berbagi ilmu dan pengetahuan mengenai peranan youth dalam mengembangkan inovasi mendukung pertanian berkelanjutan beserta tantangannya. Peserta merupakan Director organisasi IAAS Asia Pacific yang berasal dari beberapa negara seperti India, Bangladesh, Nepal, Indonesia, Filipina, dan Jepang. Lebih kurang 20-an para Ketua (Director) IAAS Asia Pacific menghadiri Webinar tersebut. 
Substansi makalah Dr Siti Amanah, menyoroti bahwa Kaum Muda adalah Pemimpin Masa Depan yang sangat diperlukan perannya untuk mendukung Pertanian Berkelanjutan. Untuk bisa berkontribusi, diperlukan pengetahuan dan kompetensi bidang pertanian sebagai sebuah sistem inovasi. Pengembangan  karakter positif, soft skills, hard skills, bahkan power skills sangat diperlukan.
Tanpa karakter, positif kompetensi, komunikasi efektif dan kolaborasi, inovasi sulit dikembangkan.
Semaju apa pun negara, pertanian dalam arti luas sangat diperlukan. Untuk itu 
para kaum muda hendaknya senantiasa mengasah kemampuan agar dapat mengembangkan inovasi yang sesuai dengan kebutuhan masyarakat. Dalam beberapa tahun terakhir dikenal istilah Frugal Innovation. Konsep ini perlu diketahui oleh kaum muda, karena kebutuhan dan kemampuan termasuk daya beli masyarakat yang berbeda. Inovasi harus secara tepat dapat dimanfaatkan oleh individu/masyarakat agar dapat berdaya guna, meningkatkan produktivitas dan mendukung tujuan pertanian berkelanjutan.