Orasi Ilmiah Guru Besar IPB University-Prof. Dr. Ir. Rilus, MA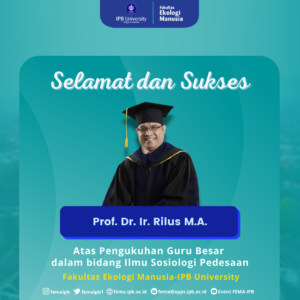 Prof. Dr. Ir. Rilus, MA lahir lahir di Balawa pada tanggal 6 Mei 1959. Merupakan anak ke 4 (empat) dari 8 (delapan) bersaudara. Menikah dengan Ir. Elisiana Norimarna, M.Sc pada tahun 1992 dan dikaruniai tiga orang anak. 
Prof. Rilus menyelesaikan pendidikan dasar di SD Negeri Ampah II (Barito Timur) tahun 1974; SMP Negeri Ampah tahun 1977; dan SMA Negeri II Banjarmasin (Kalimantan Selatan) tahun 1981. Pada tahun 1985 menyelesaikan studi S1 dari Departemen Sosial Ekonomi Pertanian Faperta IPB, di bawah bimbingan Prof. Dr. Pudjiwati Sajogyo (alm).
Pada tahun 1989-1990 mengikuti program "Training in Rural Extension and Teaching". di Larenstein International Agricultural Collage, Deventer, The Netherland.  
Pada tahun 1994 menyelesaikan Program Magister Sosiologi pada Department of Sociology and Anthropology, University of Guelph, Kanada, di bawah bimbingan Prof. Hans Bakker dan Prof. Frans Schryer. 
Pada tahun 2007 menyelesaikan Program Doktor Sosiologi di FISIP Universitas Indonesia, di bawah bimbingan Prof. Dr. Robert M.Z. Lawang dan Prof. Dr. Iwan Gardono Sudjatmiko. 
Pada tahun 2010 mengikuti program Academic Racharging di Universitas of Guelph, Kanada, dan tahun 2017 melakukan Sabbatical leave di Nagoya University, Jepang.
Sejak tahun 1987 hingga 2005 Prof. Rilus menjadi Staf Pengajar di Departemen Sosial Ekonomi Perikanan, FPIK IPB dan sejak tahun 2005 hingga sekarang menjadi Staf Pengajar di Departemen SKPM, Fakultas Ekologi Manusia, IPB.
Pada saat ini Prof. Rilus mengajar 8 mata kuliah di S1, 3 mata kuliah di S2 dan 4 mata kuliah di S3. Selama menjadi Dosen Prof. Rilus telah meluluskan lebih dari 62 orang Sarjana, 41 orang Magister, dan 25 orang Doktor.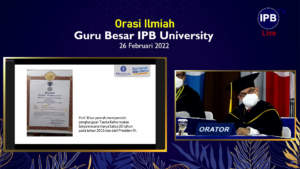 Terhitung mulai tanggal 1 September 2021, Prof. Rilus dinaikan jabatannya menjadi Profesor/Guru Besar dalam bidang ilmu Sosiologi Pedesaan, berdasarkan SK Menteri Pendidikan, Kebudayaan, Riset dan Teknologi RI, ditetapkan pada tanggal 22 Oktober 2021.
Prof. Rilus menyampaikan orasinya dengan judul "KONFLIK DAN PERUBAHAN SOSIAL PADA KOMUNITAS NELAYAN DAN PEDESAAN DI INDONESIA"
Konflik dan perubahan sosial merupakan dua fenomena sosial yang telah ada setua eksistensi umat manusia itu sendiri. Keduanya merupakan bagian dari kehidupan manusia sebagai mahluk sosial yang berinteraksi satu dengan yang lain termasuk dengan komunitas nelayan dan pedesaan di Indonesia. Sayangnya, konflik pada komunitas nelayan dan pedesaan ini, tidak jarang menelan korban harta benda bahkan nyawa manusia; perubahan sosial menciptakan kondisi sosial yang justru memicu terjadinya konflik sosial; oleh sebab itu konflik dan perubahan sosial perlu "dikelola" dengan baik, agar tidak bersifat destruktif. 
Konflik sosial itu merupakan symptom adanya ketidakberesan sosial. Konflik-konflik pada komunitas nelayan dan pedesaan selama ini kebanyakan dipicu oleh masalah livelihood. Pada level permukaan beragam ketidakberesan sosial yang memicu konflik pada komunitas nelayan dan pedesaan, seperti kebijakan perlarangan alat tangkap, gangguan wiayah tangkap, perebutan wisata dan lain-lain. Pada level dasar, ketidakberesan sosial yang memicu konflik-konflik sosial itu berkaitan dengan tiga isu utama, yakni livelihood atau sumber penghidupan, justice atau keadilan sosial, dan dignity atau martabat. 
Secara umum dinamika komunitas desa dipengaruhi oleh faktor-faktor internal desa dan faktor-faktor supra desa. Faktor Internal Desa meliputi sumber daya manusia, sosial, finasial, fisik, alam, budaya, spiritual dan politik. Faktor Supra Desa terdiri dari empat faktor utama, yaitu state, market, society dan nature.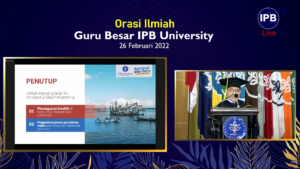 Pada bagian akhir Prof. Rilus menutup orasinya dengan 2 (dua) hal penting: 1. Penanganan konflik di komunitas nelayan dan pedesaan; 2. Pengelolaan proses perubahan sosial pada komunitas nelayan dan pedesaan. Pada titik ini Negara perlu hadir dan menjalankan fungsinya sesuai mandat dan amanat UUD 1945 dan pancasila.  sebab dalam Pasal 33 ayat 3 UUD 45 menegaskan bahwa "Bumi dan air dan kekayaan alam yang terkandung di dalamnya dikuasi oleh negara dan dipergunakan untuk sebesar-besarnya kemakmuran rakyat". Sementara sila kedua menekankan pentingnya "Kemanusiaan yang adil dan beradab" dan sila kelima menekankan perlunya "Keadilan sosial bagi seluruh rakyat Indonesia." Inilah yang harus menjadi pedoman dalam "mengelola"perubahan sosial di negeri ini, demi terwujudnya cita-cita kemerdekaan Republik Indonesia. Inilah yang harus menjadi pedoman dalam menelola perubahan sosial dan konflik sosial di negeri ini supaya terwujudu cita-cita kemerdekaan di Republik Indonesia. 
menutup orasi dengan motto: "Prosperous together, unite stronger." Prof. Rilus berharap beberapa pokok pemikiran yang disampaikan dapat bermanfaat dalam upaya menciptakan kehidupan yang lebih baik atau better life utamanya bagi para nelayan dan komunitas pedesaan di Indonesia.